Home
»
Relationship Seminars and Speaking Engagements
Relationship Seminars and Speaking Engagements
Dynamic. Fun. Inspirational. That's what people expect from a speaker.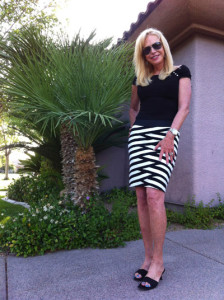 With over 30 years of experience as a professional matchmaker, Barbara knows better than most the importance of a right fit between people. The same holds true in public speaking: you have to connect with the audience and address their specific needs.
Whether your organization is looking for a speaker to provide dating advice, tips on how to improve a marriage, healthy communication in relationships, or healing after a divorce, Barbara can tailor a program just for you. She can also offer a sampling of topics across the relationship spectrum (e.g., actively dating, not dating but want to be, in a relationship, or dealing with a breakup) for mixed audiences.
Here are some sample programs:
HOW TO GET YOUR "DATING GAME" ON
Explore the art of dating with author and matchmaker Barbara Summers. Learn the do's and don'ts, including what to say, wear, and expect. If you're married, discover ways to bring the "dating" excitement back into your marriage.
WHAT ARE YOU WAITING FOR?
Whether you are single or in a relationship, there are decisions to be made at every corner that will generate momentum in your romantic life. That momentum will spare you from the dreaded feeling of being stuck and wondering what now? Is it time to get refreshed with a new lease on life so that you feel ready to date again? Do you want to spice up a relationship you're in — or get out of a relationship that isn't working? Who or what is next for you? It's time to figure it out and make a plan!
Barbara Summers' presentation was uplifting, entertaining and enlightening. What a refreshing topic, and one that should be shared with all! She presented in a manner that was both humorous and entertaining, while still getting her message across to the entire audience. … Barbara would be a huge asset to ANY group/organization who is looking for an amazing, one-of-a-kind speaker. Her ability to connect to a variety of personalities, cultures, and ages is a true gift!
          —Diana Pollack, Functions Manager at Canyon Ranch Tucson
Create an Event with Barbara »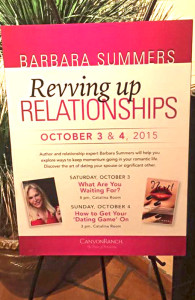 About Barbara: Barbara Summers is a matchmaker, relationship coach, seminar leader, and author. Since launching her professional matchmaking business Healthy Professional Singles in 1986, Barbara has matched hundreds of couples into marriage. She has been a guest speaker at Canyon Ranch Tucson, various Barnes & Noble stores, Anthem Country Club, Bay Club Carmel Valley, and more.
Barbara provides relationship advice in her book Next! A Matchmaker's Guide to Finding Mr. Right, Ditching Mr. Wrong, and Everything In Between (by Barbara Summers with Carey Blakely; SelectBooks, New York). Next! achieved "Amazon Best Seller" in several categories. Barbara also has proven media experience on television and radio and recently appeared on The Romance, a nationally syndicated reality TV series about dating.
The world is spinning, and that revolving door constantly stays in motion.
Who or what is next for you?
Create an Event with Barbara »